Woman Finds Her Missing Cat Through Facebook
Jimmy the cat has always been mischievous. One of his favorite things to do was go outside and wander around nearby his house — until one day, he didn't come back.
Jimmy's parents never worried about him playing outside because he was a seasoned pro, and he never went very far. He liked to hang out in the driveway, visit the neighbors for treats and go on walks with his family and the dog. He occasionally liked to sneak into parked cars through open windows to hang out for a while — before heading back to his house and meowing to come back inside.
"He used to go in and out every day but always came back, except that one night," Sue Zelitsky, Jimmy's mom, told The Dodo.
On Sept. 13, 2014, when Jimmy was 13 years old, Zelitsky's husband let Jimmy outside to play for a while. When it was time for him to come back inside, they called and called Jimmy's name and searched everywhere they could — but Jimmy never came back.
Jimmy's family was absolutely devastated, and put up missing cat flyers all around their neighborhood. Zelitsky would call out for Jimmy every time she took the family dog for a walk, just in case he might be somewhere nearby. They didn't want to lose hope, but after a while, the family assumed that Jimmy was probably never coming home.
Two and a half years later, Zelitsky was browsing Facebook when she came across a post from the West Milford Animal Shelter about a stray cat who'd been pulled off the streets — and he looked remarkably like Jimmy.
Zelitsky immediately commented on the post, trying to figure out if the lost cat was indeed her beloved Jimmy. After messaging back and forth with the shelter, the evidence kept piling up that Jimmy had finally been found.
"He was found approximately 10 miles from our home after the big March blizzard and brought in to the West Milford Animal Shelter," Zelitsky said. "After some sharing of pictures and other physical attributes I went to see him."
Zelitsky nervously gathered up a few things she thought Jimmy might recognize, and then headed to the shelter with her neighbor, who Jimmy also loved. The shelter staff welcomed them in and brought them back to see the missing cat — and as soon as Zelitsky saw him, she knew immediately that it was Jimmy.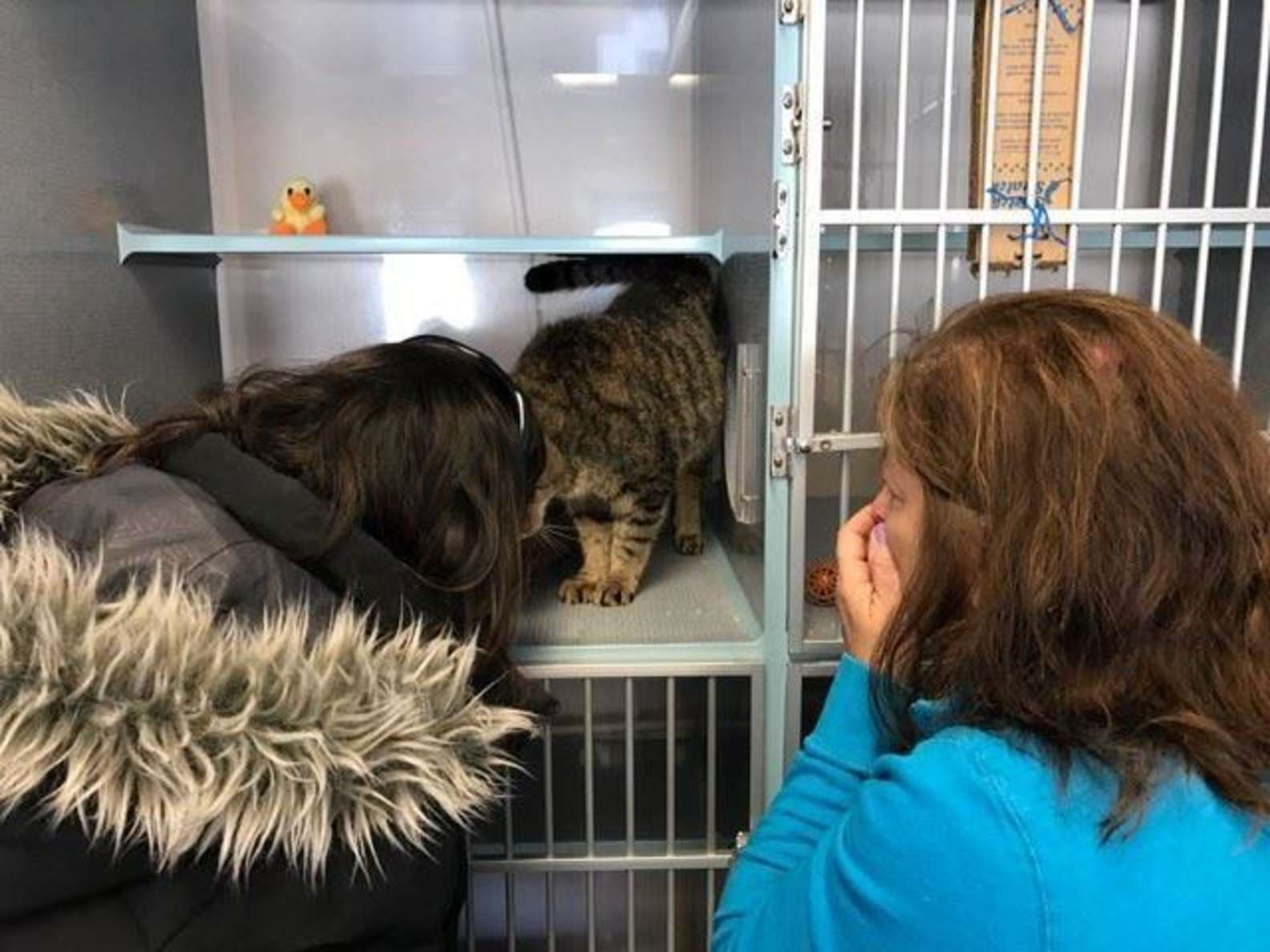 "As soon as we opened the cage I asked him, 'Jim, is that you bud?' And he walked over and head-butted me and I just started crying," Zelitsky said.
Zelitsky later brought her husband in to see Jimmy too, and Jimmy recognized and greeted him just as lovingly. There was no doubt in anyone's mind that this was Jimmy, and that somehow, he had finally found his way home.
Jimmy is 15 years old now, and so happy to be back home with his family. The family dog recognized him right away and welcomed him home, and the two new kittens the family adopted while Jimmy was away welcomed him just as much. Everyone is shocked that Jimmy was found, and the family couldn't be happier that they finally have him back in their lives.
"We are over the moon," Zelitsky said. "It's the greatest story ever and almost too good to be true … but it is!"